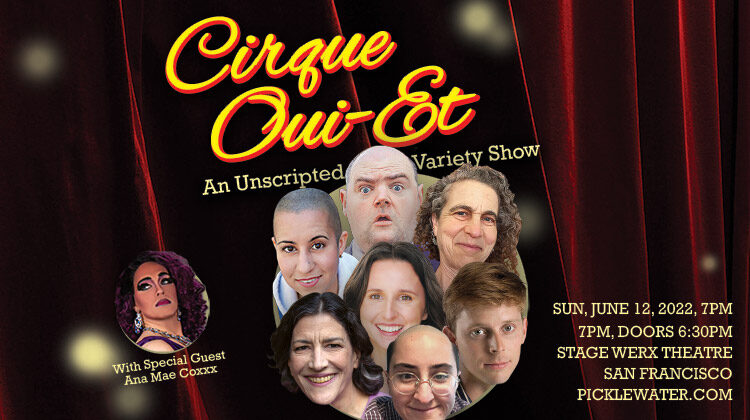 Presented by Picklewater Industries
The worlds of traditional circus, burlesque, variety, and improvisational theatre collide explosively in a new kind of never-before-seen theatrical experience.

Merging the experimental nature of improvisational theatre with the thrill of live circus, burlesque and variety shows, Cirque Oui-Et combines feats of derring-do and athleticism with an unscripted narrative to give the audience a view of not just the show but of the roustabouts and theatre nerds behind the scenes who bring a live circus and variety show to life every night.
April 10
May 1
June 12
July 3
August 7
September 11
October 2
November 6
December 11
WHEN: Select Sundays at 7pm
\WHERE: Stage Werx Theatre
446 Valencia st.
San Francisco, CA 94103
TICKETS: $15 in advance -$20 at the door
INFO: www.stagewerx.org stagewerx@gmail.com
PRESS CONTACT: Gherkin Picklewater gherkin@picklewater.com
CAST
With Special Guests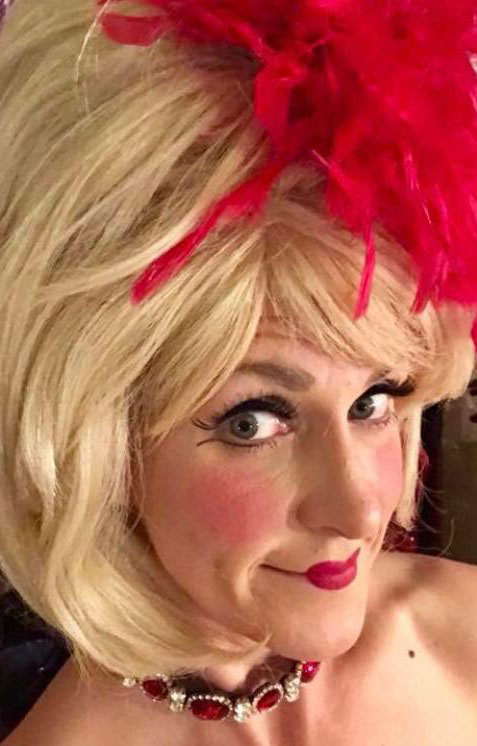 Texas Holly (April 10) is a goofy little booger, shamelessly in pursuit of laughs. She's a wrangler of children, a keeper of community, and a collector of crazy old ladies. She loves dancing more than is legal, both on the ground and on stilts. 
She's performed locally over the years with Red Hots Burlesque, Barbary Coast Amusements, and Lunatique Fantastique. And internationally she and her partner Felicity Hesed were invited to perform in Kaifeng China for the 10th Annual Chrysanthemum Festival.
Texas is grateful for her mentors who have shared their knowledge and provided tools allowing her the opportunity to pursue a passionately purposeful career.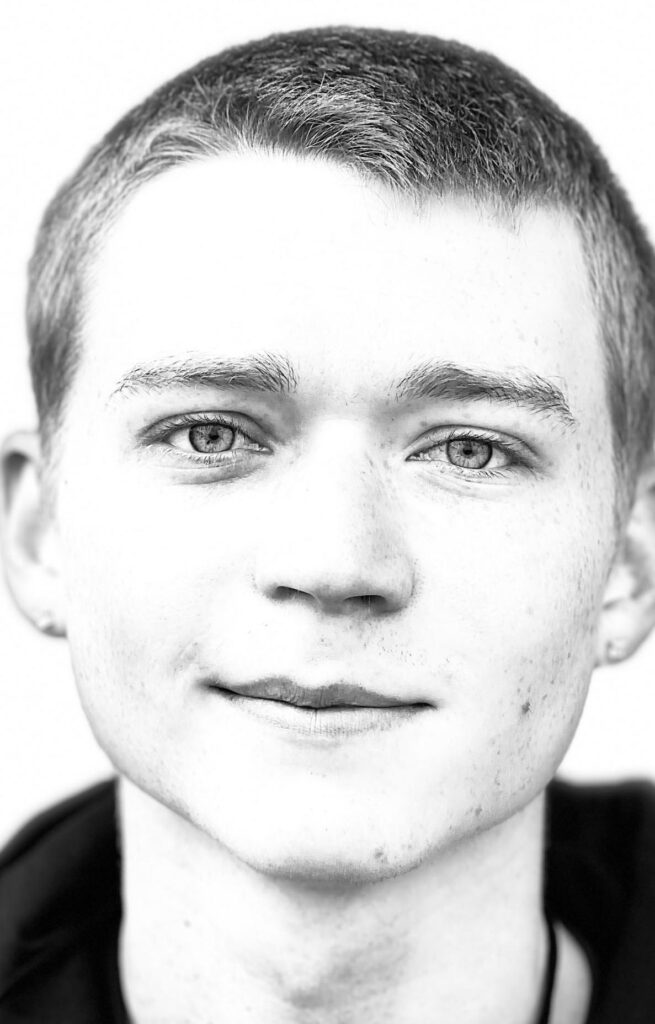 Logan Sheehan (May 1) is an up and coming circus artist from St. Louis, MO. His specialties include acrobatics, juggling, and unicycle. Although new to the Bay Area, he's been performing since he was 15 with Circus Kaput. He was recently featured in Circus Center's Sideshow Cabaret and is excited to see where his next circus adventure takes him.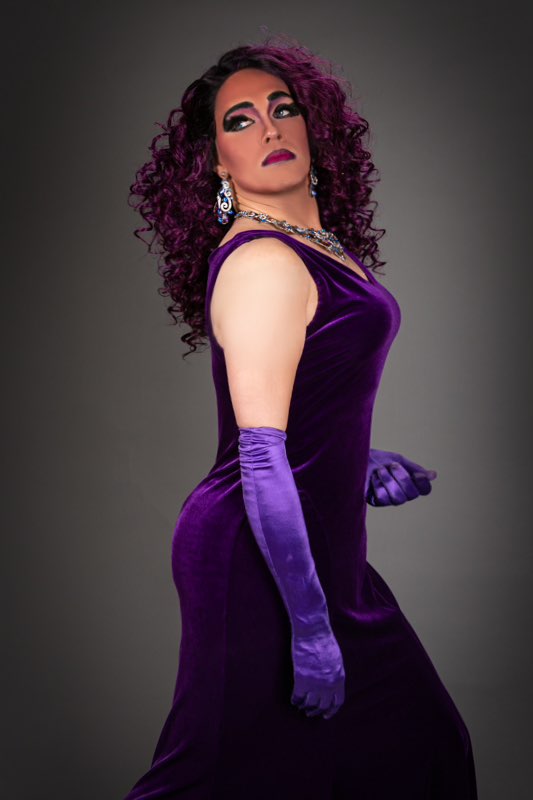 Ana Mae Coxxx (June 12) has been an award winning drag entertainer for more then 20 years. Her awards include Miss Gay Atlanta 2001, numerous ATL Nightlife awards, Bay Area Nightlife Awards and she is the Imperial Princess to the arising Phoenix Cajun Emperor of San Francisco. She is best known for theatrical performances, elaborate costumes and her impeccable lip sync. Ana Mae has performed all over the United States. In addition to performing she has also created and directed events and fundraiser – raising more then a million dollars for LGBTQ organizations so far. She also designs and creates costumes, theatrical sets and is currently developing an autobiographical musical revue.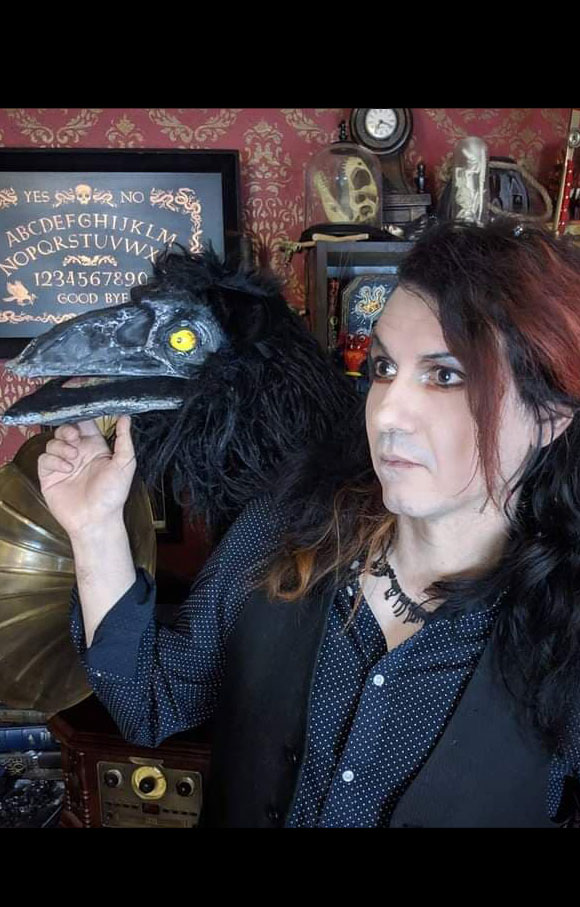 Dave Haaz-Baroque (he/him) (July 3) is a regular featured performer at Kat Robichaud's Misfit Cabaret. His puppet creations have been featured in the SF Oasis production of 'Buffy the Vampire Slayer Live', New Conservatory Theatre Center's 'Sagittarius Ponderosa', the annual Edwardian Ball, the television show 'Creepy KOFY Movie Time' and the Berkeley Playhouse production of 'Into the Woods.' Dave can be seen performing around town with his troupe Shadow Circus Creature Theatre; a puppet show where rubber dinosaurs get drunk and cuss a lot. He is currently banned from Wal*Mart because of an unfortunate incident with trained raccoons and a Tupperware set.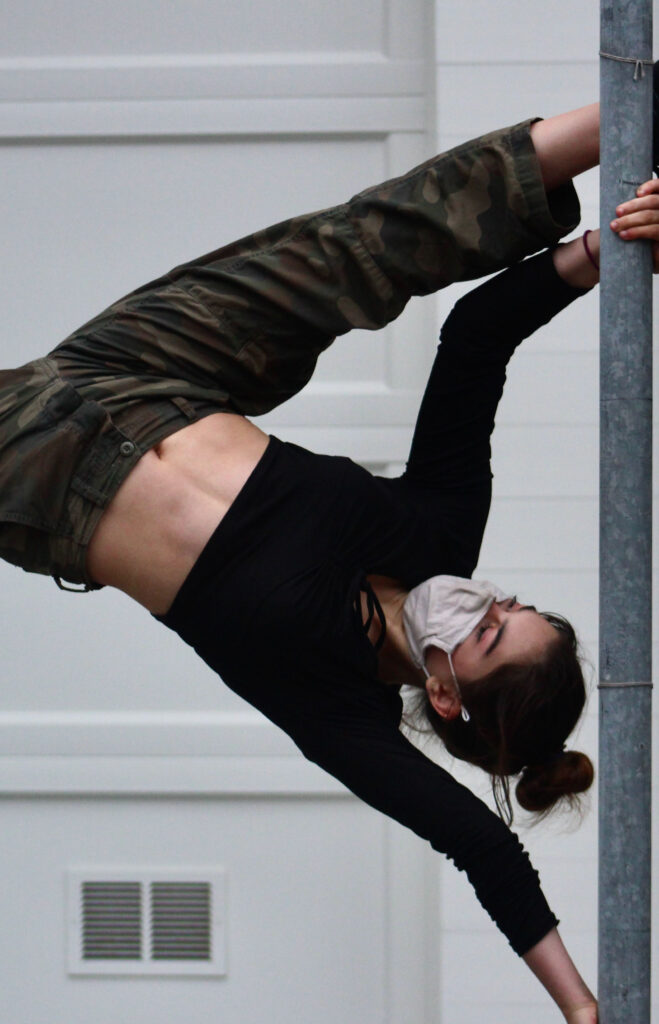 Ray Ostrow (August 7) got her start at the San Francisco Circus Center where she trains and performs a variety of apparatuses including Hoop Diving, Lyra, Teeterboard, Partner Acro, and more. She was most recently the Executive Director and Producer of 'Candy Land Circus,' a virtual circus show that was nominated for the Circus International Film Festival. However, now, she's very excited to get back into live performances again.